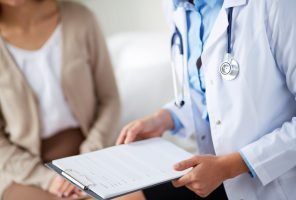 This week, Detroit News editor Nolan Finley published an op-ed calling for bold solutions in the fight against cancer. He shares his experiences of losing loved ones to cancer, laments that many folks can't afford care even in cases when treatments would likely succeed, and concludes that we as a society must come together to end cancer. He's right about that—but we shouldn't stop there in the fight for health care reform.
Finley's column references a grim reality that extends far beyond cancer. Across the country, people struggle to afford health care, and many are forced to go without necessary treatments. Deaths caused by cancer are heartbreaking, particularly when they may have been preventable—and the same can be said for heart disease, respiratory illnesses, and every other condition human beings suffer from as they go without health care.
Even after the passage of Obamacare, millions of Americans are still uninsured, leaving them unable to receive care without paying out of pocket. Often, those with health insurance don't fare much better thanks to high costs or gaps in coverage. In the U.S., we treat health care like any other industry, allowing providers to prioritize profits over patients—and it's literally killing people.
It doesn't have to be this way. It's time to pass reforms that will ensure universal health coverage for all Americans. How best to accomplish that goal is debatable, but the first step is clear. We as a country need to come together and decide that the battle to expand access to health care and ensure everyone can receive the treatment they need is one we're willing to fight.
Ironing out the details of a health care overhaul will take time, and transitioning to a system that places patient outcomes first will decrease the profits to be made in the industry—but no downside to universal healthcare outweighs the benefit of saving lives and keeping people healthy. Even the most staunch conservatives can recognize the reality that people suffer when they can't afford care. The question is, what are we going to do about it?