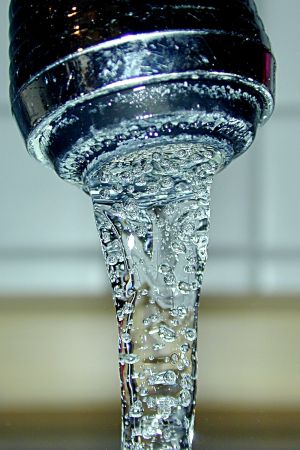 Image via Wikipedia
In 2002, Michiganders voted to fund sewage system upgrades.
Simply put, they created a bond, the Great Lakes Water Quality Bond , that would provide funds to upgrade and fix failing sewage systems across the state.
When sewage systems are overloaded, they fail, sending millions of gallons of raw or partially treated sewage into our waterways. Some, like Lake St. Clair, also serve as drinking water sources.
Sewage overflows are still a major cause for concern in Michigan (40 million gallons last year alone!) yet a few state Senators, led by Sen. Patricia Birkholz, would like to raid the Water Bond fund to pay for the cleanup of contaminated industrial sites – more commonly known as brownfields.
Brownfield redevelopment is a pretty popular economic development tool, wherein the city or state will put up some money for a business or developer to develop the site. While no one will argue that cleaning up brownfields is a bad plan, plenty are arguing that this plan – robbing the Water Bond to pay for damage inflicted by corporate polluters – is the wrong plan.
From Monday's Detroit News:
Such funds-shifting adds to voters' distrust of government. In addition, it's hard to argue the bond program has money to spare when the state's natural resources department estimates that 40 billion gallons of raw or partially-treated sewage flow each year into Michigan waterways that ultimately connect with the Great Lakes.
The News gets it right (I know, I'm surprised I just typed that too). But they also have a solution in mind, one that seems plausible:
Next year, a new governor and Legislature will face the task of redefining state government to meet tomorrow's needs. Reconditioning contaminated sites likely will remain a priority. If so, that may be the time to seek approval of new bonds dedicated to the purpose. Meanwhile, lawmakers should find out why local governments aren't using more of the $1 billion available for correcting sewage outflows. When the state has a 40-billion-gallon sewage problem, there's clearly a need for the money.
Certainly it's a multi-billion dollar question. And while they're at it, lawmakers should figure out how to get more of that Water Bond money out into communities struggling to safely treat sewage, just as the voters intended.