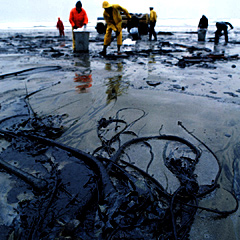 Image via Wikipedia
Congressional candidate "Top Kill" Tim Walberg has taken over $57,000 from Big Oil and other dirty energy companies while voting time and again to hand out tax breaks to BP and Big Oil.
Our lawmakers shouldn't be subsidizing BP and Big Oil but they should be protecting our Great Lakes. Yet Walberg is on record supporting oil drilling in the Great Lakes. Michigan shouldn't be a place where we need "junk shots" and "top kills" to plug giant oil spills.
With the effects of the Enbridge oil spill into the Kalamazoo River still being felt, we know that breaking our dependence on Big Oil is key to keeping our waterways safe. Now, as Tim Walberg says he wants to represent Michigan in Congress – again – we think it's time he broke his dependence on oil, too. Sign our petition telling Tim "Top Kill" Walberg to shut down Big Oil's pipeline of influence today!
We're tired of seeing people like Tim Walberg take money from Big Oil and then vote for huge tax breaks for those same companies while blocking incentives for clean, job-creating energy like wind and solar.
Enough.
Our Great Lakes can't take it anymore. We think Tim Walberg should stand up to Big Oil. Will you sign our petition telling him to say no to tax breaks for Big Oil, no to campaign contributions from those same companies and no to Great Lakes drilling?