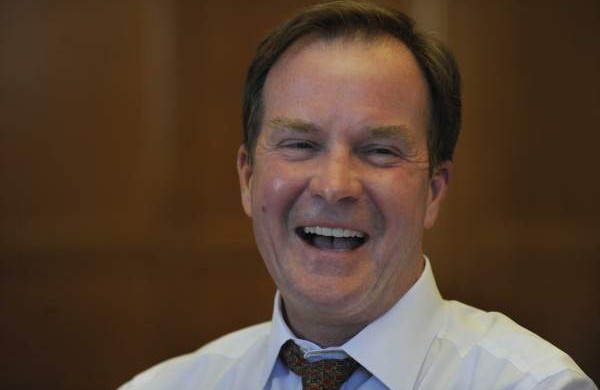 FOR IMMEDIATE RELEASE                                                                                                                                           
News from Progress Michigan 
August 1, 2018
Contact: Sam Inglot, 616-916-0574, sam@progressmichigan.org
Emails Show Nearly a Decade of Schuette Illegally Using Public Office
Documents show political activity conducted by public employees on public time 
LANSING — Progress Michigan has obtained and released scores of emails showing a dizzying number of examples over nearly a decade of Attorney General Bill Schuette and his staff using public time and resources to conduct political activity, including discussing and organizing fundraisers and attendance at Republican Party and other campaign events.
"What we see here are numerous examples of illegal activity by Attorney General Bill Schuette and his top staff," said Lonnie Scott, executive director of Progress Michigan. "As the state's top law enforcement official, it is appalling that Schuette has taken the AG's office — which is supposed to be used to protect the people of Michigan — and turned it into a shady political enterprise to illegally advance his own political aspirations and agenda."
The watchdog organization plans to send all of the documents it has received to the Federal Bureau of Investigation and the Office of Special Counsel, where the group's Hatch Act complaint against Schuette is still open. The documents are available online at the links below:
https://progressmichigan.actionkit.com/go/3513?t=7&akid=8979%2E178519%2EwaYXOf
https://progressmichigan.actionkit.com/go/3514?t=10&akid=8979%2E178519%2EwaYXOf
https://progressmichigan.actionkit.com/go/3516?t=13&akid=8979%2E178519%2EwaYXOf
https://progressmichigan.actionkit.com/go/3518?t=16&akid=8979%2E178519%2EwaYXOf
https://progressmichigan.actionkit.com/go/3520?t=19&akid=8979%2E178519%2EwaYXOf
Examples of activity include: Schuette using public time to personally ask staff to conduct fundraising activities, Schuette's staff using public time to schedule meetings with his campaign's corporate donors, Schuette meeting with campaign donors, and Schuette's staff performing political fundraisers and partisan activities on public time.
Schuette, responding to media questions on Tuesday about asking his staff to do political work, Schuette said "absolutely not." That is a lie.
"As to Northern Michigan, we should put in the TV invitation in the mail by Wednesday, June 3. So, this means that all our calls need to be made to our counties within our Northern Michigan radius of TC immediately," Schuette wrote regarding a "Endless Summer BBQ" fundraising tour from his personal email account at 10:53 a.m.on Thursday, May 28th in 2015. The email, which was clearly sent during work hours, was sent to John Sellek, Rusty Hills, Dennis Starner, Scott Greenlee, Carter Bundy, and Lori Gay, among others.
On July 23, 2015, Bill Schuette's public calendar shows he had two commitments that day: reading to kids and a meeting with Linda Orlans, an attorney in Detroit. However, the emails containing Schuette's schedule for that day shows the AG was meeting with campaign donors and discussing the upcoming Republican National Convention.
The day in question shows a schedule where Schuette met with the head of Penske Corporation, an organization that has given $150,000 to his campaigns. He also met with Sean Cotton of the Meridian Health Group, which has donated over $20,000 to Schuette. All of which was done on the public's time, but not included on his public calendar, which Progress Michigan recently released.
"We now know why Schuette's public schedule was so light on details," Scott continued. "It's because he spends his days doing political work rather than working on behalf of the people of Michigan."
The emails over the years show how public staff coordinated political events, such as Schuette's annual BBQs across the state and attendance at Republican Lincoln Day dinners, on public time.
"Bill Schuette thinks he's heading back to Lansing next year. I think he'll be lucky if he avoids Jackson," Scott said.
Other examples, include:
A June 2018 scheduling email from Carter Bundy mixing campaign and public work
Constituent relations representative Matt Hall soliciting donations for a Schuette BBQ in 2012 during work hours
An email sent to AG staff detailing the schedule of a meeting to be held during work hours to discuss Schuette BBQs on April 1, 2015
An email about a meeting held by Schuette at his public office during the work day regarding the 2016 Republican National Convention
An email from Matt Hall during work hours on August 19th, 2014 asking about the number of delegates supporting Calley
An April 2014 email from Carter Bundy requesting payment checks for political events while on state time
A May 2015 email from Carter Bundy during work hours scheduling time for a Schuette rep to attend a GOP Lincoln Day dinner and requesting money to purchase an ad for Schuette
###