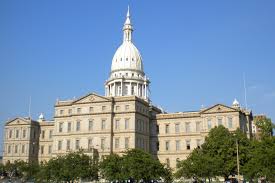 The way our democracy is meant to work is simple. We, the voters, elect candidates whose values align with ours. They, being good and faithful public servants, work hard to fight for our well-being. Unfortunately, the influence of money and corporate donors undermines that process. This problem is especially bad here in Michigan, which ranks dead last in the nation for government transparency and ethics.
No one person embodies this better than Attorney General Bill Schuette, whose corruption in office has consistently made headlines. From using government staff on the public's time to facilitate million-dollar real estate deals, to using private emails to conduct public business and lying about it (or illegally destroyed the records), he has fully earned the not-so-affectionate nickname Shady Schuette.
However, the problem goes far beyond just Schuette. One need only look at Governor Rick Snyder, whose administration ignored reports of PFAS contamination and took no action to hold corporate polluters accountable until the danger became public knowledge six years later. Snyder's second in command, Lt. Gov. Brian Calley, received a master's degree from Harvard University on the public's time by sneaking out of the state on a weekly basis.
These individual actions are not isolated incidents, but part of a broader problem with the entire Republican Party. At all levels of government, Republicans have consistently pushed policies benefiting wealthy corporations at the expense of ordinary people. These decisions are not random–our elected officials are simply acting in their own self-interest to please the wealthy donors who bankroll their campaigns.
We all deserve to know where our elected officials' loyalties exist, and progressives are fighting to make that happen. Recently, a group of Democrats in the state legislature introduced bills that would require candidates for office to disclose their finances – an important move toward transparency. It is worth noting similar bills have been introduced repeatedly throughout the last decade and the Republican majority has refused to move them forward.
These legislators aren't the only progressives fighting for improved transparency in Michigan's government. Here at Progress Michigan, we're fighting an ongoing legal battle to hold Schuette accountable for his use of private emails to conduct public business. Schuette's continued denial even when presented with hard evidence these emails exist raises an important question: What emails on these private accounts make him so desperate to hide them?
It's a sad state of affairs when government ethics have become a partisan issue, but it is clear Michigan Republicans have no interest in ensuring our government is of, by, and for the people. Meanwhile, progressives continue to work toward a democracy where officials of all parties are fully accountable to those who elect them. Now, it's up to Michigan to decide if we are ready to fight for a more transparent government.