FOR IMMEDIATE RELEASE
News from Progress Michigan & Oakland County Commissioner David Woodward
Friday, April 5, 2013
Contact: Zack Pohl (517-980-6190) David Woodward (248-894-6650)
New Progress Michigan survey shows strong support for increasing current wage above $10.00 per hour
LANSING – A new survey released today by Oakland County Commissioner David Woodward and Progress Michigan shows strong support for increasing Michigan's current minimum wage of $7.40 per hour. Over 70-percent of respondents indicated they would support an increase in the current minimum wage to $9.00 or more per hour; 21-percent said they would support an increase up to $10.20 per hour. The release of the survey follows several reports highlighting growing wage and income inequalities within the state.
"Every Michigan resident who's willing to work hard and play by the rules should have an opportunity to enjoy a middle class lifestyle," said Zack Pohl, Progress Michigan's Executive Director. "Unfortunately, today's minimum wage is near poverty levels and fails to provide a decent, secure living for the average hard-working family."
For a person working 40-hours per week, the state's current minimum wage provides $15,392 per year before taxes. Unfortunately, the increased cost of living, combined with tax hikes on low-income workers, puts a full-time worker providing for her family near poverty level. A September 2012 Michigan League for Public Policy report showed a rise in poverty within the state—most notably with families that have children.
The survey conducted by Google Consumer Surveys was fielded March 22-30 and is based off 466 online responses representative of Michigan's adult population. Survey respondents were asked their support for increasing the state's current minimum wage of $7.40 per hour to $9.00, $9.65, $10.00, or $10.20 per hour; those who did not support an increase were provided with that option. Combined support was above 70-percent with only 30-percent of respondents indicating they did not support an increase.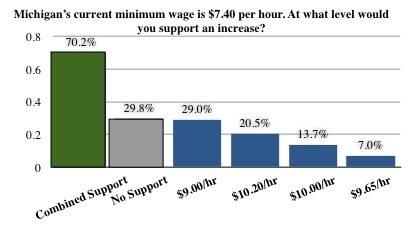 Furthermore, 33-percent of survey respondents indicated that if the issue were on the November 2014 ballot, it would make them more enthusiastic to vote—most notably amongst women, low-income households, and younger voters.
"The last time legislators acted to increase the wage was 2006," said Pohl. "The data is clear, Michigan residents believe it's time for a raise."
Today's survey release also kicks-off a grassroots advocacy effort launched by Oakland County Commissioner David Woodward to push the state legislature to focus on increasing the wage. Further information about the effort can be found at: www.raisemichigan.com.
"Too many Lansing politicians are failing to realize that businesses and families are hurt by Michigan's increasing poverty and income inequalities," said Oakland County Commissioner Dave Woodward. "Protecting workers and families by increasing the minimum wage is not only a matter of fairness, but it's the right thing to do for our economy. More money in people's pockets means more money in the local economy helping small businesses."
"Increasingly mothers are forced to take low-paying jobs in order to support their families," said Danielle Atkinson, Director of Mothering Justice, speaking in support of increasing the minimum wage. "A person willing and able to work full time should not be forced to live in poverty because Lansing politicians are failing to raise the wage."
###
Editor's Note: Google Consumer Surveys was rated one of the most accurate polling methodologies in the 2012 Presidential election by Nate Silver.  You can also learn more about their methodology at: http://www.google.com/insights/consumersurveys/home.