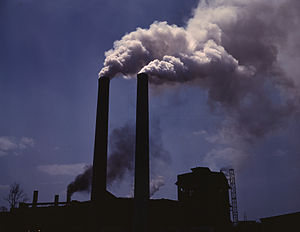 Image via Wikipedia
This is something like Dick Cheney winning the Nobel Prize for Peace.
A recent study by the nonprofit Clean Air Task Force found that air pollution from CMS Energy's 57 year old J.R. Whiting coal plant in Monroe causes 40 deaths a year as well as 61 heart attacks, over 600 asthma attacks, and about 35 emergency room visits for asthma.

In a press release and public ceremony this week, however, the Michigan Department of Natural Resources and Environment — the agency in charge of enforcing air quality standards — recognized the plant as a Neighborhood Environmental Partner.
Awesome, right? So now, no matter what the major effects of your business, you can be rewarded for planting a few flowers and picking up your trash. Certainly this sends the right message to polluters.
Hey, Dow? Go ahead and install a bike rack and we'll forget about the dioxin nightmare you've caused. Oh, Enbridge, old pal! Take a picture of your staff recycling and soon, that whole oil spill will be forgotten.
Un. Effing. Believable.