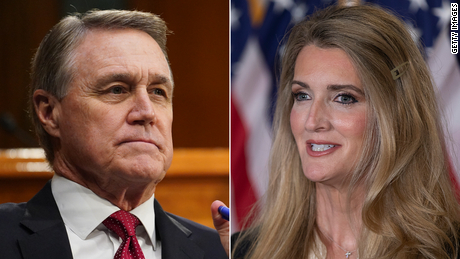 FOR IMMEDIATE RELEASE
News from Progress Michigan
January 4, 2021
Contact: Sam Inglot, (616) 916-0574, sam@progressmichigan.org
DeVos Family, Other Michigan Donors Spending Thousands to Re-Elect Georgia GOP Senators
DeVos Family, Dan Gilbert and his businesses, are donating to Georgia Senators Kelly Loeffler and David Perdue despite racist remarks and profiting off of the pandemic
MICHIGAN – Progress Michigan, a progressive political advocacy and watchdog organization, has reviewed financial disclosures from the two Republican Senate candidates running in the Georgia runoffs and their ties with Michigan donors. Based off data from the Federal Election Commission, Michigan business owners like Amway Co-Chairman Dick DeVos and Quicken Loans Chairman Dan Gilbert are donating the maximum legal limit to incumbent Georgia Senators Kelly Loeffler and David Perdue, who face tough battles to hold onto their seats. During their time in office, Loeffler and Perdue have faced credible accusations of insider trading during the COVID-19 pandemic and made racist dog-whistles a central part of their campaigns.
"I am disgusted, but not surprised, to see the likes of the DeVos family, Dan Gilbert, and other billionaires doing everything possible to keep far-right racists in control of the United States Senate," said Lonnie Scott, executive director of Progress Michigan. "I guess Kelly Loeffler and David Perdue's potentially illegal—and definitely immoral—stock trades, refusal to give suffering families economic relief from COVID-19, associations with members of the KKK, demonization of Black religious traditions in the South, and reckless usage of antisemitic tropes were not enough for corporate interests in Michigan to distance themselves from these toxic elected officials. Their contributions to elected officials who have caused so much harm show how morally bankrupt their values are. While Mitch McConnell is holding up much-needed relief for families struggling during the COVID pandemic, these individuals are cutting checks to keep him and his party in power."
Below is a list of notable donations from Michigan individual donors and PACs to the Loeffler and Perdue campaigns:
GILBERT/ROCK HOLDINGS
Dan Gilbert has donated $5,600 total to David Perdue, with $2,800 in additional contributions coming from family members.
Rock Holdings Inc. PAC, a PAC associated with Gilbert's company, donated $5,000 to the Georgia Republican Party on 11/11/20.
Rock Holdings Inc. PAC donated $5,000 to Georgians for Kelly Loeffler on 11/14/20.
Rock Holdings Inc. PAC donated $7,500 to Perdue on 9/30/20.
Matt Cullen, former CEO of Bedrock Detroit and current principal and chairman of JACK Entertainment (both Gilbert companies) donated $2,800 to Perdue in June 2020 – the maximum allowable by law.
Jay Farner, an executive at Quicken Loans, donated $2,000 to Perdue in July of 2019.
Bill Emerson gave $2,800 to Perdue on 12/1/20, as did his wife.
DEVOS FAMILY
Members of the DeVos family to give maximum legal contributions to both Perdue and Loeffler include Suzanne, Daniel, Doug, Maria, Monreau, Nicholas, Pamella, and Dalton DeVos. This amounts to a total of at least $22,400 from these named individuals.
Jordan and Michaela Richtsmeier, who are also part of the DeVos family, each donated $2,800 to both Loeffler and Perdue.
Elsa Prince Broekhuizen, Betsy DeVos and Erik Prince's mom, donated $2,800 to Perdue on 11/30/20 and $2,800 to Loeffler on 11/20/20. Her spouse, Ren, donated the same amounts to each candidate.
CONSERVATIVE OPERATIVES AND OTHER BUSINESS PACs
Tim Walberg, U.S. Representative from Michigan's 7th District, donated $2,000 each to Perdue and Loeffler on 12/15/20.
Sean and Jon Cotton, of the family who founded Meridian Health, have each donated the maximum allowable limit by law to Georgians for Kelly Loeffler and David Perdue.
Ron Weiser, former chairman of the Michigan Republican Party, and his wife donated the maximum allowable limit by law to Perdue in July 2020, and also donated the same amount in May for the primary.
Bobby and Mark Schostak donated $2,800 and $1,400 to the Perdue and Loeffler campaigns, respectively. Bobby was the former chair of the MIGOP.
DTE Energy PAC donated $2,500 to Perdue on 12/16/20.
Terri Lynn Land, former Michigan Secretary of State, donated $2,800 to the Perdue campaign in December, as has her husband, Dan Hibma. Hibma also donated $1,000 to Loeffler.
###