FOR IMMEDIATE RELEASE
News from Progress Michigan
May 26, 2020
Contact: Sam Inglot, sam@progressmichigan.org
Hypocrisy Alert: GOP Chairwoman Votes Absentee While Suing CA for Mail-In Voting
Records show Ronna Romney McDaniel has voted absentee a number of times in past elections
MICHIGAN — According to publicly available voting records, GOP Chairwoman Ronna Romney McDaniel has used mail-in absentee voting a number of times over the years, drawing critics at Progress Michigan to call her out for her California lawsuit that seeks to stop the expansion of mail-in voting.
"Voting by mail is safe and secure and Ronna Romney McDaniel knows that because she's used the process herself several times over the years. The fact she and the Republican Party infrastructure are suing California to try and stop them from keeping their electorate healthy and safe using mail-in voting is rank with hypocrisy," said Lonnie Scott, executive director of Progress Michigan. "Let's be clear about what's happening: The GOP will stop at nothing to put up hurdles between people across this country and the ballot box and that's the real reason they have filed this suit. It's not at all about the safety or security of elections, it's about protecting their power by disenfranchising voters during a global pandemic. "
Progress Michigan used publicly available voter data to find that Romney McDaniel reportedly used absentee voting from her home state of Michigan a number of times over the years, including most recently in 2020.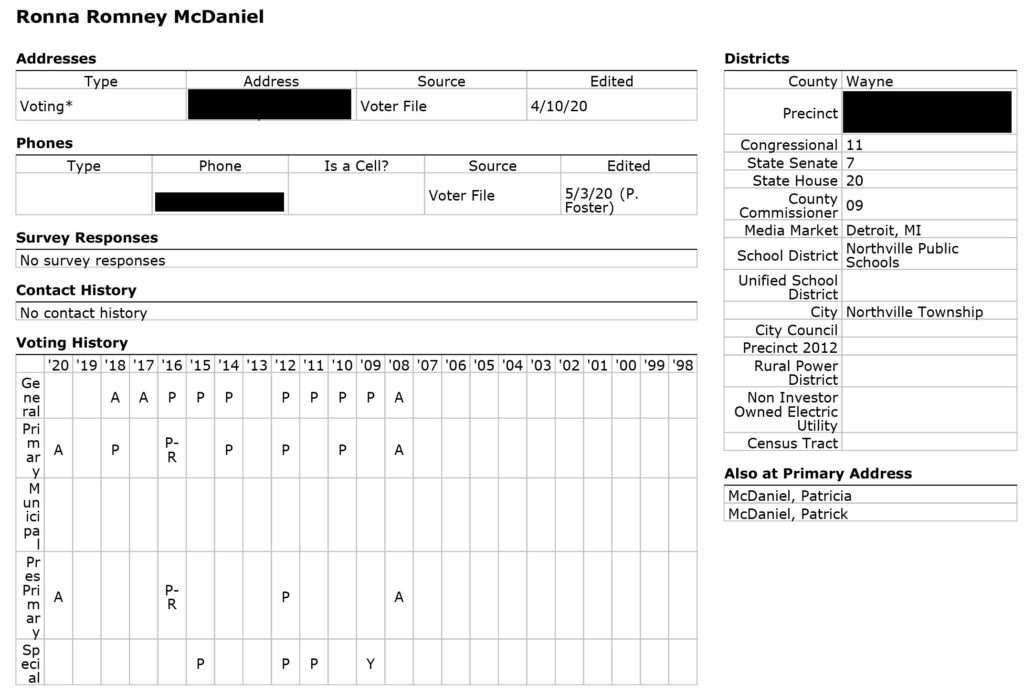 "The GOP is embarking on a brazen attempt to cut off access to voting for people around the country while utilizing the very processes they seek to vilify," Scott continued. "If we want to have a healthy democracy where all eligible voters have the ability to make their voices heard, people need to have options to vote, especially during a global pandemic."
###