FOR IMMEDIATE RELEASE
News from Progress Michigan
February 7, 2020
Contact: Sam Inglot, 616-916-0574, sam@progressmichigan.org
Report: GOP Mega-Donor Pushed Bill by Threatening to Cut Off Donations
Letter obtained by Progress Michigan shows GOP tying public policy to political donations
MICHIGAN — In a letter to Republican leadership, GOP mega-donor Peter Secchia threatened to cut off donations if they didn't do something to protect his $6 million home from erosion along Lake Michigan. Shortly after, a bill was introduced, and that bill has quickly moved through the legislature despite concerns from environmental officials. 
The letter was obtained by Progress Michigan and provided to the Detroit News, which published a report about the situation today. In the letter (image below), Secchia writes to Shirkey and Chatfield, "There seems to be little interest in the Michigan House of Representatives or the Michigan Senate. This lack of concern mystifies me. Our property values will diminish greatly…hence, our donations will also diminish."
"When the angry cash cow moos, Mike Shirkey and Lee Chatfield come running to milk it. Michigan Republicans are clearly tying their public policy agenda to political donations. This sort of corrupt behavior cannot be tolerated," said Sam Inglot, deputy director of Progress Michigan. "Just like the shores of Lake Michigan, public trust erodes when elected officials so clearly care more about political donations than sound public policy."
Peter Secchia is a major donor to the Michigan Republican Party who has donated hundreds of thousands of dollars to the party and Republican candidates. His last name even appears on the GOP headquarters in Lansing. He's also been a lightning rod of controversy over the last few years, when he caught heat at MSU during the Larry Nassar case for disparaging survivors. 
In the letter, Secchia mentions he has spoken with Ottawa County officials about the problem. Progress Michigan has filed a FOIA request with Ottawa County seeking emails between county officials and Secchia.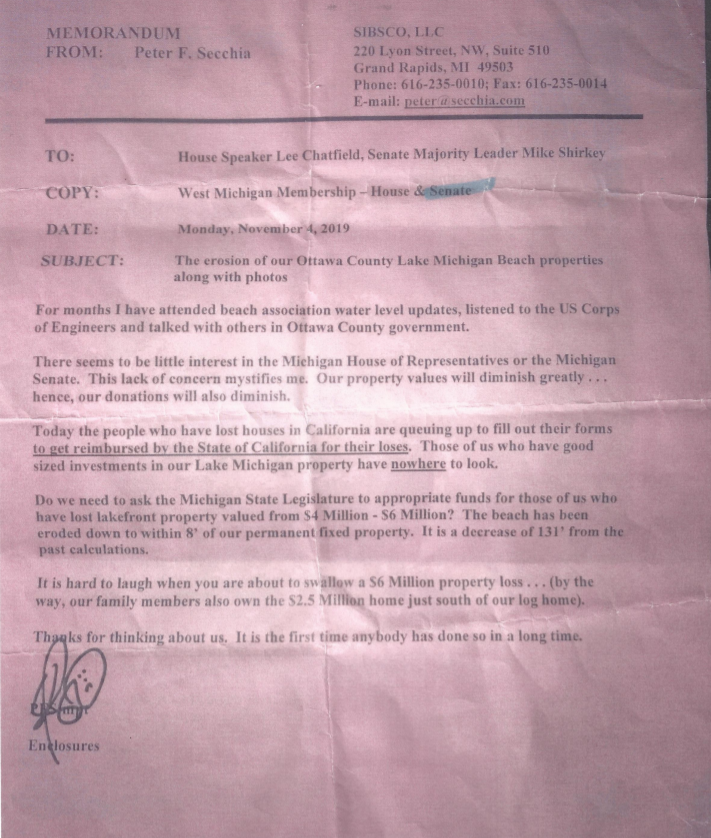 ###