Speaking to Michigan Public Radio Network's Rick Pluta during a call-in show this morning, Michigan House Speaker Jase Bolger claimed that Michigan was the "only state to lose green jobs."
Speaker Bolger may find the truth a little inconvenient, but as President John Adams famously said, "facts can be stubborn things."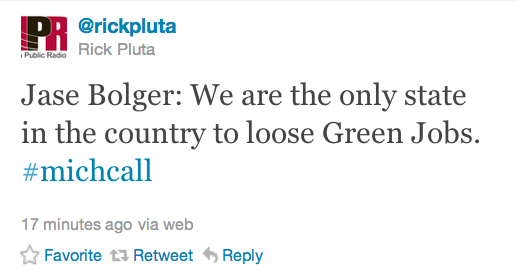 While the Brookings Institute report that Speaker Bolger uses to back up his claim states that the clean energy economy grew more slowly in aggregate than the national economy between 2003 and 2010, it also states that "newer 'cleantech' segments produced explosive job gains and the clean economy outperformed the nation during the recession." This is especially true in Michigan, where public and private investments in advanced battery manufacturing and solar, and wind energy have created thousands of jobs – the opposite of Speaker Bolger's claims.
But don't take my word for it; let's look at the facts.
"Michigan's 'green economy is growing fast, data shows, with thousands of clean energy jobs on the horizon…" – Reuters, "Job Boom in Michigan, as Clean Energy Manufacturing Drives Economic Recovery," April 19, 2011
—
Solar and Wind
In March 2011, an Environmental Law and Policy Center study concluded there are currently 121 Michigan companies engaged in the solar industry and 120 Michigan companies that are a part of the wind energy supply chain.
The state's solar industry alone has attracted $4.1 billion in public and private investment over the past three years, bringing the number of Michigan solar jobs up to 6,300 – the fourth highest in the nation.
Advanced Battery Manufacturing
In 2010 alone, 17 advanced battery-manufacturing companies located or expanded in Michigan, reflecting nearly $6 billion in total investment projected to create 62,000 jobs.
Advanced battery manufacturing is also helping our automotive industry. General Motor's Chevy Volt has led to more than $700 million in investments at eight manufacturing plants for production of the vehicle and its components. The Detroit Free Press (date) reported that "GM plans to build 60,000 Volts at its Detroit-Hamtramck plant… the update comes as GM plans to add as many as 2,500 jobs to its Detroit Hamtramck factory as soon as this summer."
Ford has also invested $1 billion to modernize its Michigan Assembly Plant from an SUV factory to a plant to build the 2010 Focus and all-new 2011 Focus Electric pure battery EV.
—
In the shadow of a global recession, it's no surprise that Michigan has lost hundreds of thousands of jobs. But green jobs in sectors like advanced battery manufacturing, solar, and wind are replacing some of those. "The new green economy provides Michigan a dynamic opportunity to rebuild the state's job base, attract new investment, and diversify the state's economy," writes the Michigan Green Jobs Report by the Michigan Department of Energy, Labor and Economic Growth (DELEG).
Michigan's clean energy sector is creating jobs for Michigan residents, Mr. Speaker. Since Michigan's unemployment rate has gone up for the fourth straight month under your leadership, maybe you should look to green jobs to help put more Michiganders back to work.