It's an election year, so we plan to keep extra busy this year. We'll be working with partners across the state to educate voters and provide them with the resources they need to make their voices heard, and we'll also be working to make sure that all voters can cast their ballots free of threats, harassment and intimidation. You make that possible!
As a Progress Michigan donor, you help us provide support to our progressive partners across the state at little to no charge. Your donation helps us continue to add staff to our team so that we can do even more meaningful work for the progressive community. We've said it before, but you really do power us up.
Thank you for standing with us and working to build a more inclusive, equitable and sustainable Michigan.

We're

standing up for public education.


No matter your where you live or what your background is, all kids deserve equitable access to a quality public education and our teachers deserve the resources that they need to help their students succeed. That's why Progress Michigan is partnering with public education groups including organizations representing educators, school board members, parents and school administrators to launch

For MI Kids, For Our Schools

, an effort to oppose the Betsy DeVos-backed voucher proposal that would take hundreds of millions of dollars away from public schools.



This DeVos scheme, the so-called "Let MI Kids Learn" initiative, is just another half-baked voucher proposal that will undermine public education. Their plan is to have the legislature pass the initiative without ever going before the people for a vote.

C

heck out

ForMiKids.com

to learn more about the effort to stop DeVos and her allies, and make sure you talk to everyone you know and urge them to not sign the petition. 
We're building support for equitable opportunity and healthy communities across rural Michigan.

This quarter we worked with our partners, including Michigan Farmers Union, Center for Change Northern Michigan Advocacy, and AFT-Michigan on getting the Legislature to fully fund the Michigan High-Speed Internet Office (MIHI) so that communities can finally have access to the resources they need to get internet connection in their homes, and at the end of March, Gov. Whitmer signed the budget that included funding for MIHI! Check out the press coverage we got in 

Interlochen Public Radio

, 

Bridge Magazine

, and the 

Traverse City Record-Eagle

.





Our rural program is also pushing for bold action in the

MI Healthy Climate Plan

, and we gathered 166 letters to the Michigan Department of Environment, Great Lakes, and Energy to improve the plan.

We are demonstrating support for evidence-based gun violence prevention policy

. This quarter, Engage Michigan (our c3 arm) published

a report in collaboration with Center for American Progress

outlining the current landscape of gun violence in Michigan. The report highlights six key areas where Michigan ranks above the national average in terms of violence and includes policy recommendations for legislators. We also conducted

polling research

to gauge support for various policy options to reduce gun violence. The polling showed overwhelming support for policies ranging from increased investment in mental health to extreme risk protection orders, demonstrating that Michiganders want real change now.





We're expanding our research team! We're thrilled to announced that next quarter we're bringing onadditional capacity so that we can ramp up our research efforts and produce even more revealing and hard-hitting reports.
We're also working to add a videographer to our design team. Know someone that you think would be great? Check out our job posting and send them our way. Please and thank you!

Stand Up for Progress is baaaack!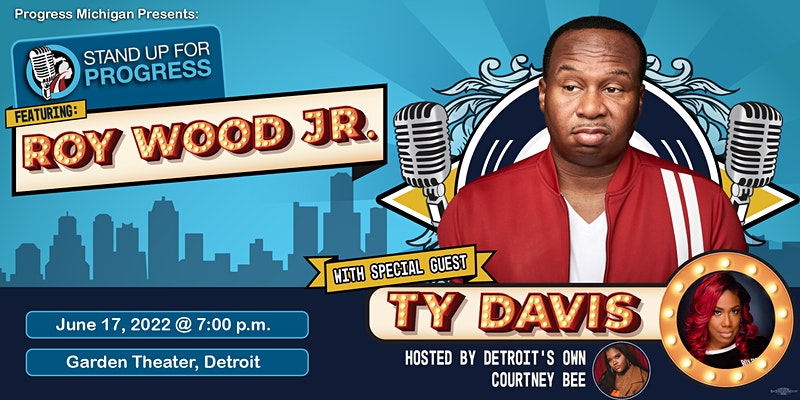 After two very long years, we are so excited to announce that our annual fundraiser/comedy show is back. This year Roy Wood Jr. – of The Daily Show with Trevor Noah – will be headlining the event. Save the date for, Friday, June 17 at 7 p.m. at the Garden Theater in Detroit. Get your tickets now.