If it's even a little true that we play out our fantasies through the movies we watch, then what are we to make of Rick Snyder's choice for budget director?
John Nixon, executive director of Utah's Office of Budget and Planning, was named today by the governor-elect to be the point person in dealing with the state's $1.3 billion budget deficit.
In a February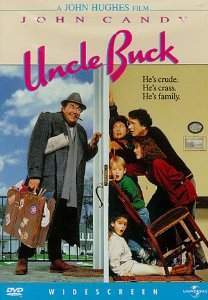 Cover of Uncle Buck
article in Utah Business, in which the 37-year-old Nixon was crowned one of Utah's top under-40 business leaders, Nixon listed the 1989 comedy, Uncle Buck, as one of his two favorite films. The movie starred John Candy, who played a clumsy, disorganized and messy babysitter to three adolescents in a middle-class suburban neighborhood. Uncle Buck is either a cult classic or moronic, depending on your tastes.
Similarly, Nixon's other fav movie was Tommy Boy, which in 1995 gave Saturday Night Live's Chris Farley his Hollywood breakthrough. Akin to Candy's Uncle Buck, Farley portrayed a dim-witted slob who finds himself suddenly cast in a role completely out of character–in this case the CEO of his recently deceased father's business.
So what does this say about the man Rick Snyder hired as the mechanic to keep his government reinvention machine running without oil, gas or warranty?
Does Michigan's next budget director wish to reinvent himself as a slovenly unkempt, beer-swilling guy who miraculously succeeds when confronted with his greatest challenge: balancing Michigan's budget?
Or maybe Nixon wants to escape to a state where lowbrow political comedies should be in great supply during the coming year.